0% Tax-Free Zone with Georgia Financial Licenses for your Crypto / Payment or Forex Business
Free Industrial Zone (hereinafter "the FIZ") is the type of a free zone envisaged by Tax Code of Georgia where the business-friendly regulations and favorable tax and customs system apply. FIZ is singled out for economic activities and the companies operating therein are subordinated to special regime, which is favorable from legal, financial and commercial point of view.
Free Zone companies operate worldwide tax exempted. The only restriction applicable is, that only Non-Georgian citizens residents can be served. The rest of the world is your clientele.
The minimum capitalization of your new Georgia Free Zone company is: 0,00 EUR - No extra paid-up capital needed.
In other countries such as those of the European Union, the UAE, Hong Kong or Singapore you will need to calculate with hefty paid-up capital requirements, regular regulator visits, quarterly reporting's and the obligation to employ an own compliance officer with full salary and maintain an office according to local requirements and standards. All this you won't need in Georgia. Our legal partners will care, that all requirements are being met according to Georgian standards. Get started and save your budget.
Our Services
The Republic of Georgia Free Industrial Zone is a Free Zone License provided in the Tax Code of Georgia where business-friendly regulations and favorable tax & customs regime apply.
About Georgia
Georgia is strategically located between Europe and Asia. Thanks to rapid development of infrastructure and communications, is becoming increasingly integrated globally.
Contact Us
Ready to get licensed in the Republic of Georgia? Contact us today and we'll get the process started.
Let us get the Georgia Free Zone Financial License process started for you!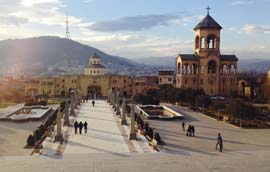 Open accounts for you and your customers, transfer funds, earn monthly maintenance fees or on each single transfer or issue debit cards via third parties. New: e-money converting into bitcoin and other cryptocurrencies also allowed.
Obtain a Free Zone License from the Republic of Georgia - a prosperous country right on the door steps of the European Union and gateway to the Middle East, Russia and Asia.
Currently no other country provides entrepreneurs this financial flexibility and freedom as Georgia does and to setup a Free Zone licensed entity without any additional capital or immense staff requirements. Benefit from it.
Our Georgia Financial Assets
•    THESE GEORGIA-LICENSED FREE ZONE COMPANIES CAN OFFER ALL CRYPTOCURRENCY SERVICES; PORTFOLIO & WEALTH MANAGEMENT; INVESTMENT ADVICE; OFFSHORE FX/BINARY/OPTIONS; ISSUE OF DEBIT & PREPAID CARDS ETC...

•    THESE LICENSES ARE BEING ISSUED BY THE FREE ZONE AUTHORITY IN THE REPUBLIC OF GEORGIA

•    LOW SET-UP & YEARLY OPERATING COSTS


Ready-made/seasoned Trust Companies; Investment Funds; Onshore and Offshore Banks; ParaBanks; Electronic Money Institutions; Payment Services Providers; Cryptocurrency Exchanges and other licensed entities; Asset Management Companies; many others...
Currently Available for Sale! Great Opportunities! Fast Transfer!